* Please Note - En Pointe is Currenty On Pause *
The goal of this business is to provide an opportunity to experience, share, and enjoy. Wine shouldn't be about snobbery, scores, or prestige, it should be about closing the laptop, coming together, and prioritizing quality of life.
Wine can bring us together, give us pause, and remind all of us how important it is to stop and smell the roses.
Cheers!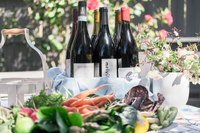 Our Spring Collection
Our latest shipment features wines from France, Italy, and California. Each wine is hand selected to perfectly pair with spring in the San Francisco Bay Area, and to reflect our mission of celebrating food-friendly, sustainably produced, and delicious wines made by small producers all over the world.
Learn More
Discover something new to love.