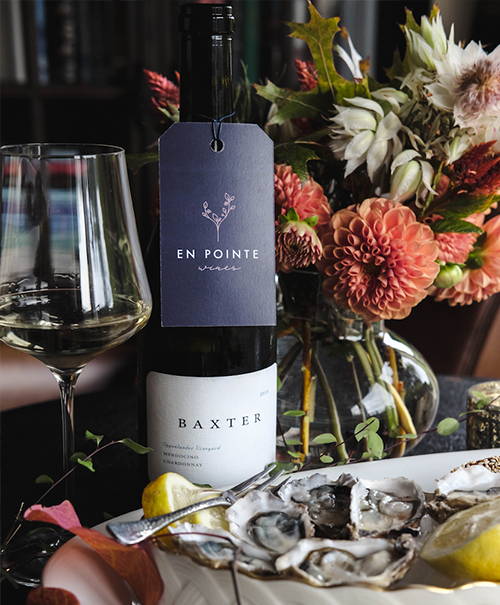 Here's a wine that reflects the perfect harmony between the warm California sun and our cooling coastal fog. Picture it, you're standing on the wild coastline of northern California - the subtle scent of wildflowers on the hillside, the taste of sea spray in the air, the powerful ocean breeze whistling past you, and that perfect kiss of sun on your cheek making you want to linger all day - that's exactly where this wine takes me. One of the most complex, intense, and balanced California chardonnays I've tasted in a long time, it's French Chablis meets California at its best.
---
And so we come to our beautifully pure and crystalline Roussanne from Eric Texier. Here's a wine that laughs at the idea that all natural wines fall into the dismissively "funky" category.
A bit like your favorite cashmere sweater that's neither trendy nor flashy, but simply soft, comforting, and perfect for when the crisp fall air replaces the long days of summer, that's how this wine feels to me. With flavors of pear, fennel, and fresh herbs, there's a rounded texture enveloping a nervous core.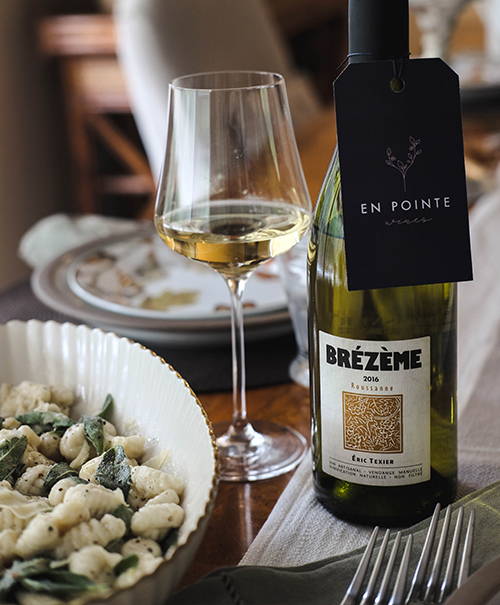 ---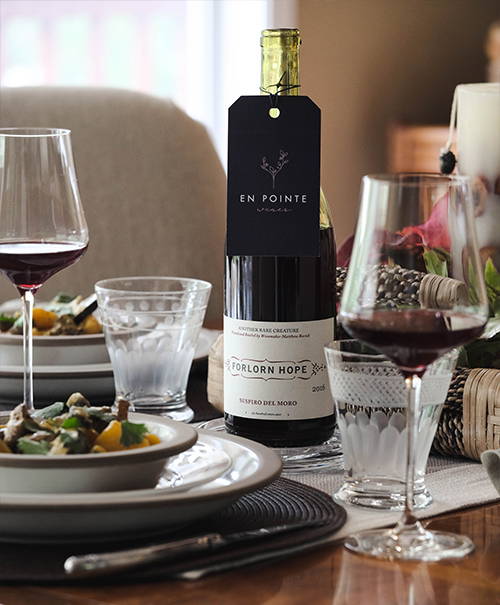 To me, this wine captures autumn in a glass. With aromas of red fruit, grapefruit pith, orange peel, and cinnamon, and flavors of cranberry, cassis, and five spice, it's like all the flavors of fall were captured and blended together to be shared amongst friends. It's a wine for the first rain of the season, an indie film on Netflix, and for when you can't possibly spend another moment thinking about email.
---
The ultimate crowd pleaser.
There's plenty for families to disagree about over holiday get-togethers - politics, who's doing the dishes, who to crown the real "Prince Newman" (Walter or Julian), but thank god for this knockout wine from Liguria that's sure to please everyone from Grandpa to Aunt Joan.
Packed with dark fruit, winter spice, and a refreshing acidity to stand up to your favorite cranberry sauce, it's the perfect option for Thanksgiving.
---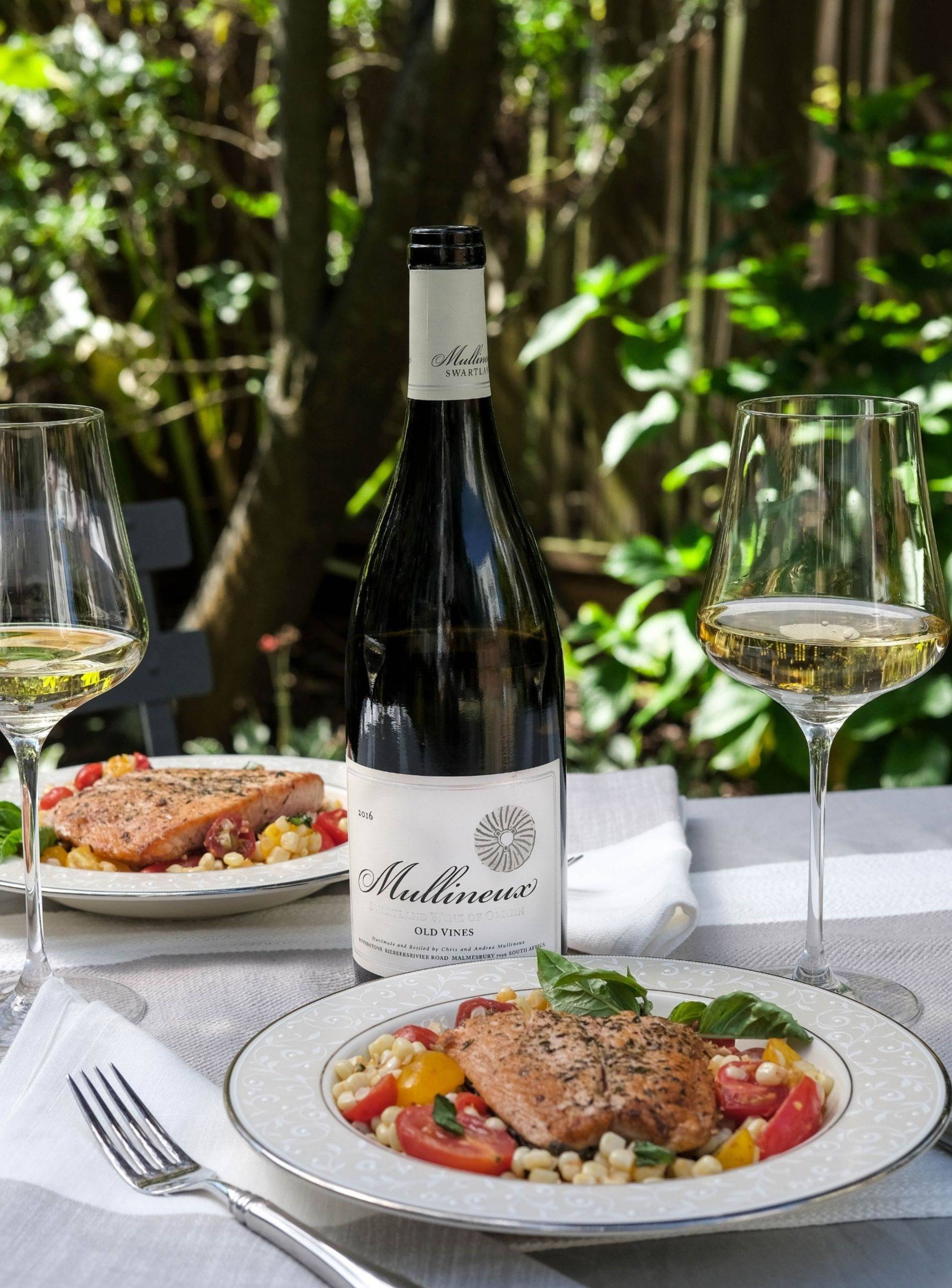 Mullineux Old Vines White
I've selected his Old Vine White Blend for our latest bundle because it's perfect for the end of summer in the Bay Area. Simply opening the bottle and pouring a glass will have you walking through the farmers market in your mind - aromas and flavors of ripe yellow and white peaches, sweet summer corn, fresh basil and mint - it's all there, wafting out of the glass. There's a restrained sunshine - like an August day on the bay with the fog rolling in - that allows the wine to feel fresh and exciting but simultaneously warm and inviting. Take my advice and pair it with seafood and summer corn, or take the our talented winemaker's advice and pair it with pork belly to see how well this pretty wine can hold its own.
Jolie Laide Trousseau Gris
Equal parts floral, citrus, and savory, this wine's complexity is simultaneously captivating and intriguing, but so well integrated and balanced that your time is wasted trying to question whether you smell clementines or lemons wafting from your glass. In fact, reading tasting notes for this wine is entertaining in itself - everyone seems to pick up on something different - the only consistent note being an overwhelming sense of admiration.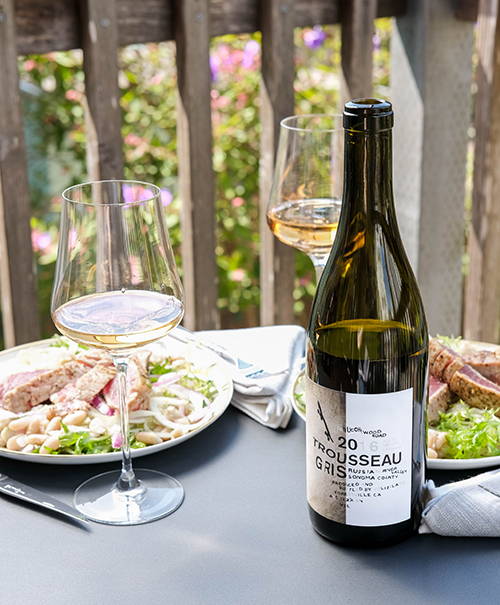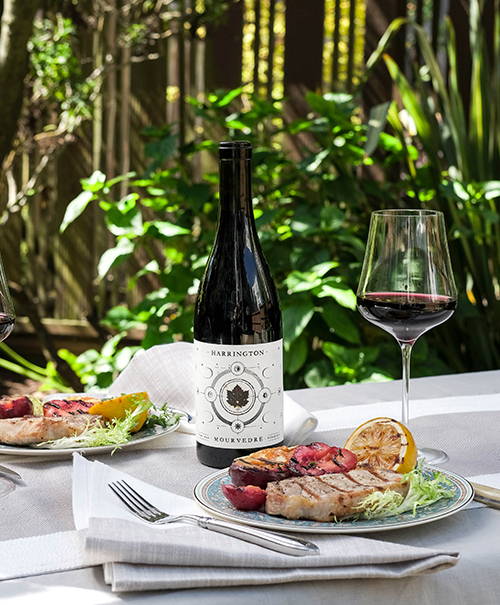 This is not your typical mourvedre. Known for a dominating personality of black pepper, red meat, smoke, and high tannins - typical mourvedre wines are not for the faint of heart. But when a winemaker decides to have an open mind and experiment with grapes in new locales, then a grape like mourvedre can take on an entirely different persona. If warm climates create a hearty BBQ pairing wine, then what should we expect from the Sierra foothills, with their cooling winds, volcanic and granite soils, and refrigerated sunshine? When mourvedre tangos with the edge of snowmelt, what then?
---
Don't let the wine's deep ruby color or region of origin fool you. This isn't a heady, high alcohol force. Rather, it's equal parts juicy black fruit, mineral nerve, spicy black pepper, dark chocolate, earth, and an intoxicating floral perfume. Serious, but not imposing, this wine feels like dinner by the campfire. This is the wine for your final summer camping trip or your picnic in the Presidio before the leaves begin to fall. It will suit the rustic but beautiful surroundings, while also connecting you to the farmers and traditions of Spain.
---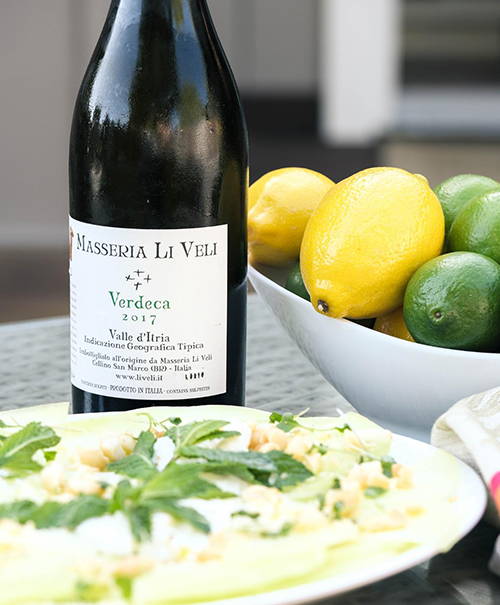 One of Riley's old Airbnb friends now leads trips in Puglia, Italy, and when he broached the idea of booking one, I shot it down on the grounds that "they don't really do white wines there". Later that same day, one of my favorite distributors stopped by with a case of wines for me to taste. And guess what he threw in because "I just had to taste this delicious new white wine in the portfolio." Yup, that's right, a traditional, nearly extinct, variety called Verdeca, made in Puglia, Italy. I ate my words as the first sip went down.
---
Yes, I know, rosé feels a bit overdone these days. There are more rosé hashtags than I can count on two hands. From #yeswayrosé to #brosé, there's plenty to roll your eyes at and it's only May as I write this. That said, there's a reason why everyone from your college-aged cousin to your grandma is jumping on the bandwagon - rosé is simply delicious.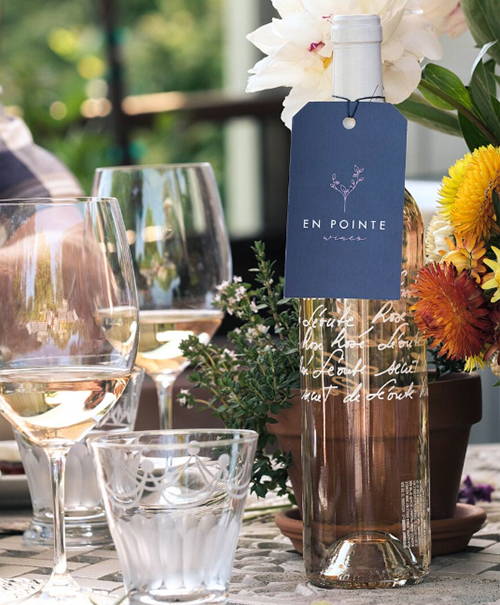 ---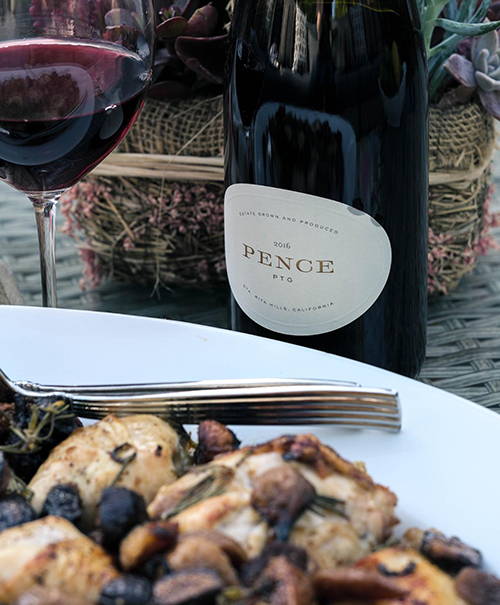 This blend of Pinot Noir and Gamay wine from Pence reminds me of a bouquet of hibiscus flowers and cherry blossoms, all wrapped up in a gorgeous silk ribbon. It's an elegant wine for Pinot lovers - a bottle for those of us that love having a little dash of something new to compliment the familiar. It's not a big, bold, or powerful wine, but neither is it wimpy or thin - it's elegant, inviting, and frankly, intoxicating. And to top it all off, the land these grapes come from is equally breathtaking. All around, this one's a beauty.
---
Benanti Nerello Cappuccio
We discovered this Nerello Cappuccio over lunch at one of Sicily's top wineries and it made me yearn for summer - especially dinners outside with my dad at the grill. It's deliciously smoky, with hints of tobacco and herbs, but with just the right amount of ripe fruit to balance it all out. I like to think we're tasting a hint of the volcano itself with each and every sip. But it's not all smoke and tobacco in there, there's also an undeniable sense of passion and generosity inside this bottle - something we were so taken with as our early lunch turned into early evening with the Benanti family.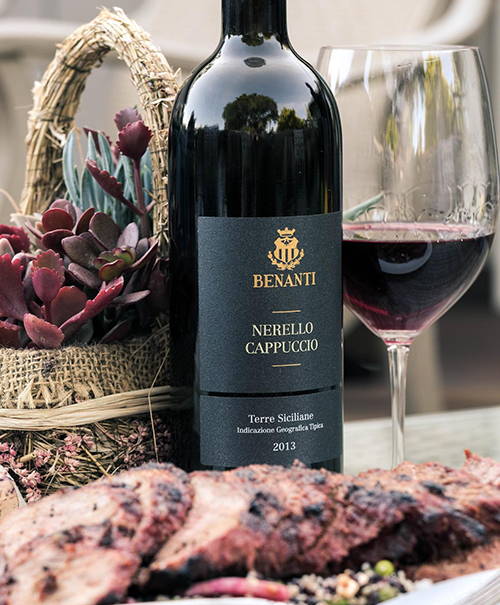 ---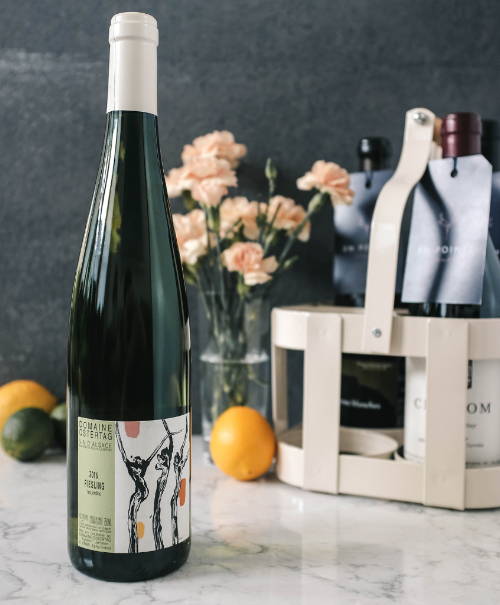 Domaine Ostertag Riesling
On a rare rainy night in San Francisco (which we seem to be having a lot of lately), I'm inclined to plan a hearty meal that pairs best with a red wine. Now, that leaves me with a problem… what will I sip on while I'm cooking, and what will I pour with our salad course? (I'm a huge veggie fan, so every meal has to have some greens involved.) You might not think this is a "P1" kind of problem, but if our goal here is maximum enjoyment in life, then I'm here to solve that problem for all of us, and this Riesling is just what we need.
My husband Riley and I fell in love with wines from the Jura last year while living in France. Our favorite neighborhood wine shop, Les Vins du Terroir, had the best selection - not too many options, and every bottle just right. As we got to know the owner Antoine, we came to trust anything he recommended and one day he suggested a Chardonnay from the Jura mountains. We took it home that night to pair with our favorite roast chicken from the farmers market and it completely changed the way we thought about Chardonnay.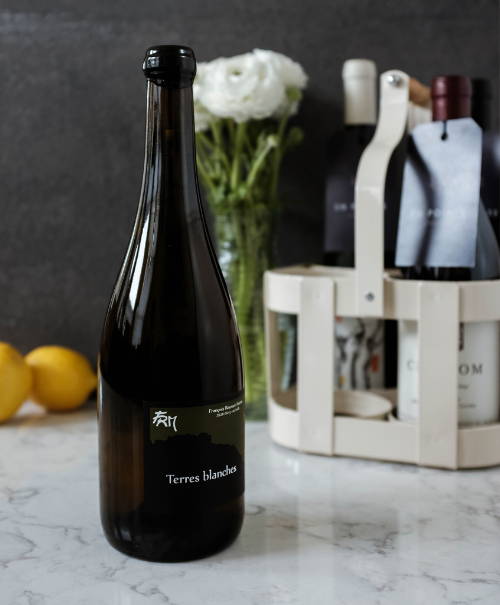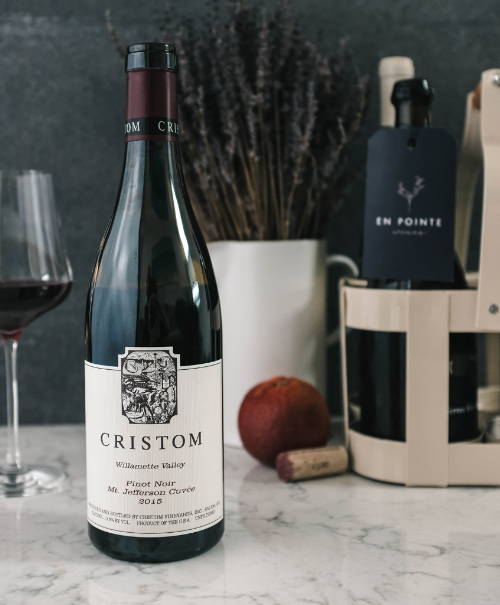 Ready for a cozy night in? This is the kind of bottle I want when I've come home from a long day, cooked a delicious meal with my husband Riley, and I just want to relax. With juicy red fruit, exotic five spice, dried orange peel, and a velvety texture, this wine is an excellent example of the incredible Pinot Noirs coming out of Oregon's Willamette Valley.
This Aglianico (pro tip - the G's silent) is a classic Italian grape from the Basilicata region. However in this case, it's grown and handled with care by a tiny family-run operation down in Paso Robles. They farm sustainably, have a deep respect for creating beautifully balanced and food-friendly wines that can rival the classics of Italy, and at the end of the day, Stephanie and Brian Terrizzi are simply some of the nicest people in the business, so you can't help but want to support them.