Domaine Ostertag Riesling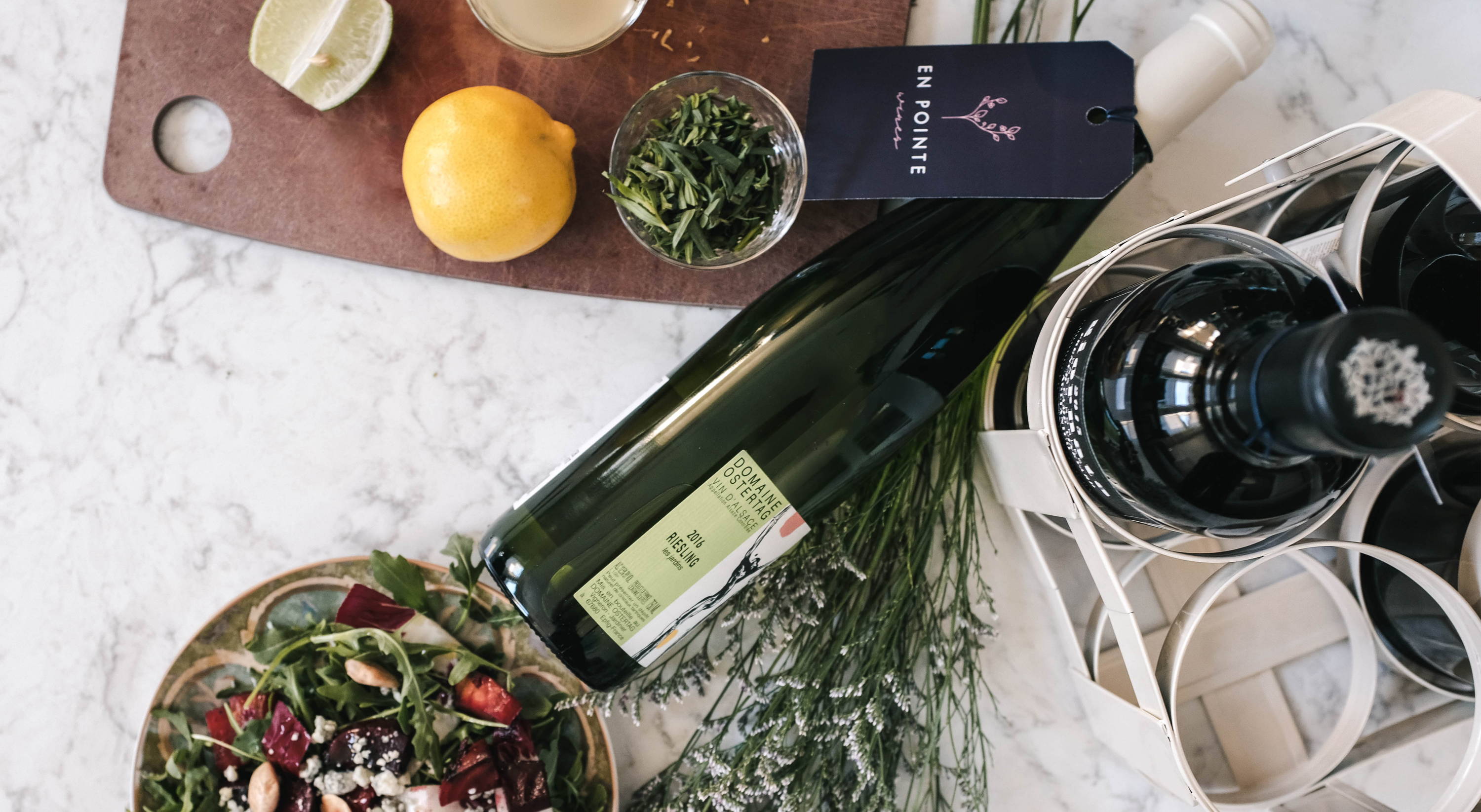 On a rare rainy night in San Francisco (which we seem to be having a lot of lately), I'm inclined to plan a hearty meal that pairs best with a red wine. Now, that leaves me with a problem… what will I sip on while I'm cooking, and what will I pour with our salad course? (I'm a huge veggie fan, so every meal has to have some greens involved.) You might not think this is a "P1" kind of problem, but if our goal here is maximum enjoyment in life, then I'm here to solve that problem for all of us, and this Riesling is just what we need.
For anyone who hears Riesling and imagines some sweet "gateway wine" for teen girls, I'm here to debunk that myth forever. Rieslings are complex, elegant, and often age-worthy wines. Yes, some Rieslings are sweet, but the acidity and the sweetness of the fruit balance each other perfectly, creating the kind of refreshing wine that keeps you coming back sip after sip. And when you find Rieslings from Alsace, you can expect them to be dry (aka not sweet) with a distinctly creamy texture, and intriguing smokey undertones - making them stellar food pairing options. The only problem now is saving some of the bottle for that salad course!
Speaking of which, when we think about food pairings, acid and acid go hand and hand because the acidity in your food will lessen the perception of acidity in the wine, so pairing this high acid wine with something like a citrus vinagrette is a great idea. That said, it would also pair beautifully with dishes with goat cheese, roasted beets or carrots, and all kinds of seafood. I'm excited to pair this wine with a salad of roasted beet and goat cheese over some fresh local lettuces, but I'd also be thrilled to save it for the main course and pair it with a seared red snapper with lemon and roasted fennel, or linguine with fresh crab or shellfish!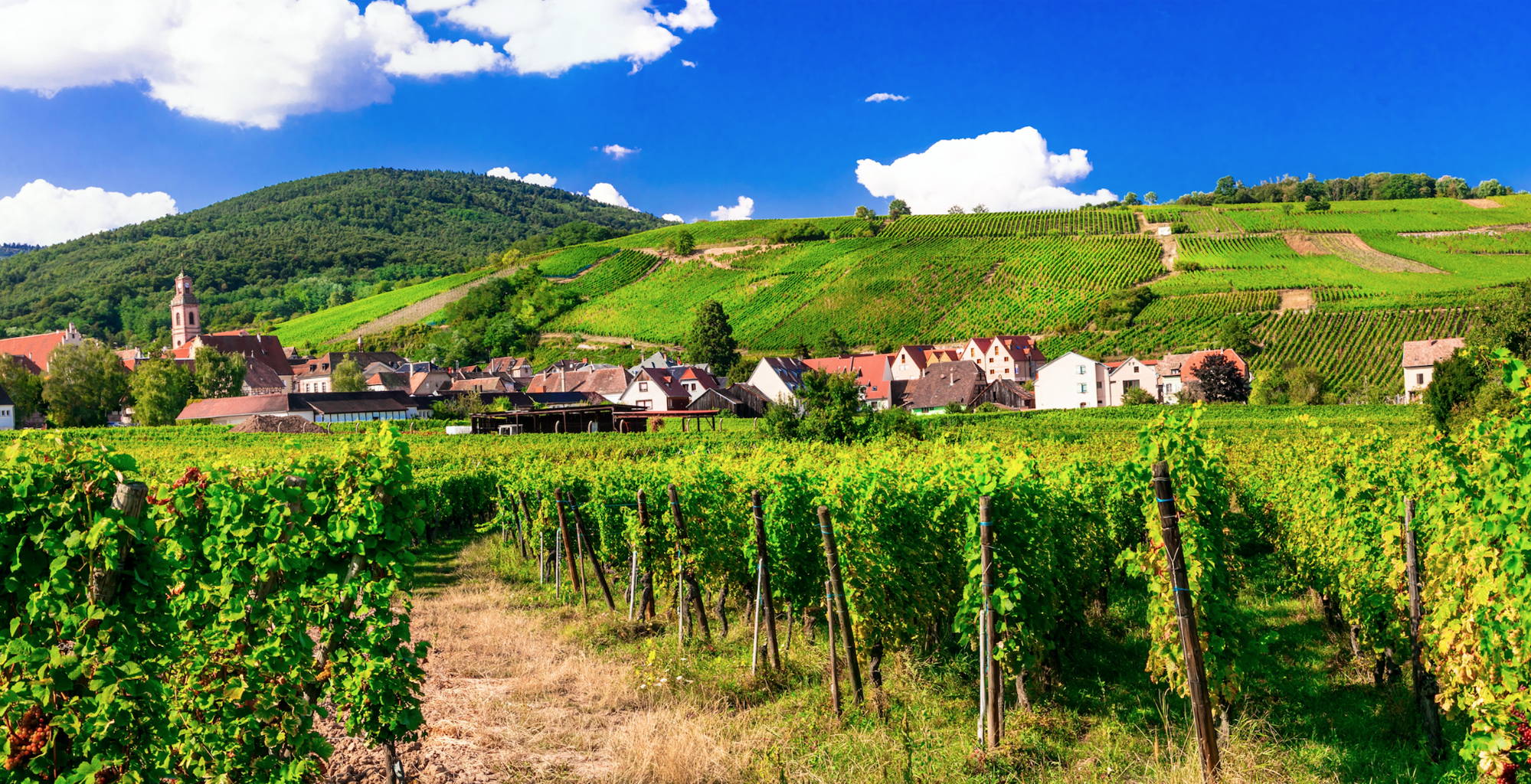 One of the reasons you can find such incredible wines in Alsace is the geography of the region. The best vineyards are planted on the sunny eastern slopes of the Vosges mountains, giving their grapes a fresh acidity from the elevation, while allowing them to develop ripe fruit flavors and floral aromas from the excellent sun exposure. Unlike many German Rieslings, you can pretty much count on the fact that Rieslings from Alsace will be dry, with a more substantial weight to the body and texture, allowing them to stand up to heartier dishes like chicken or pork (a classic regional pairing).
Though a quick flip through your history book will remind you that they're not entirely separate from their German neighbors. The Alsace region regularly changed hands between France and Germany, and the wines reflect this shared identity. While the grapes are German, the wine-making style remains traditionally French. Each bottle is a blend of cultures and a taste of history.
And of course, we have to talk about the producer, André Ostertag.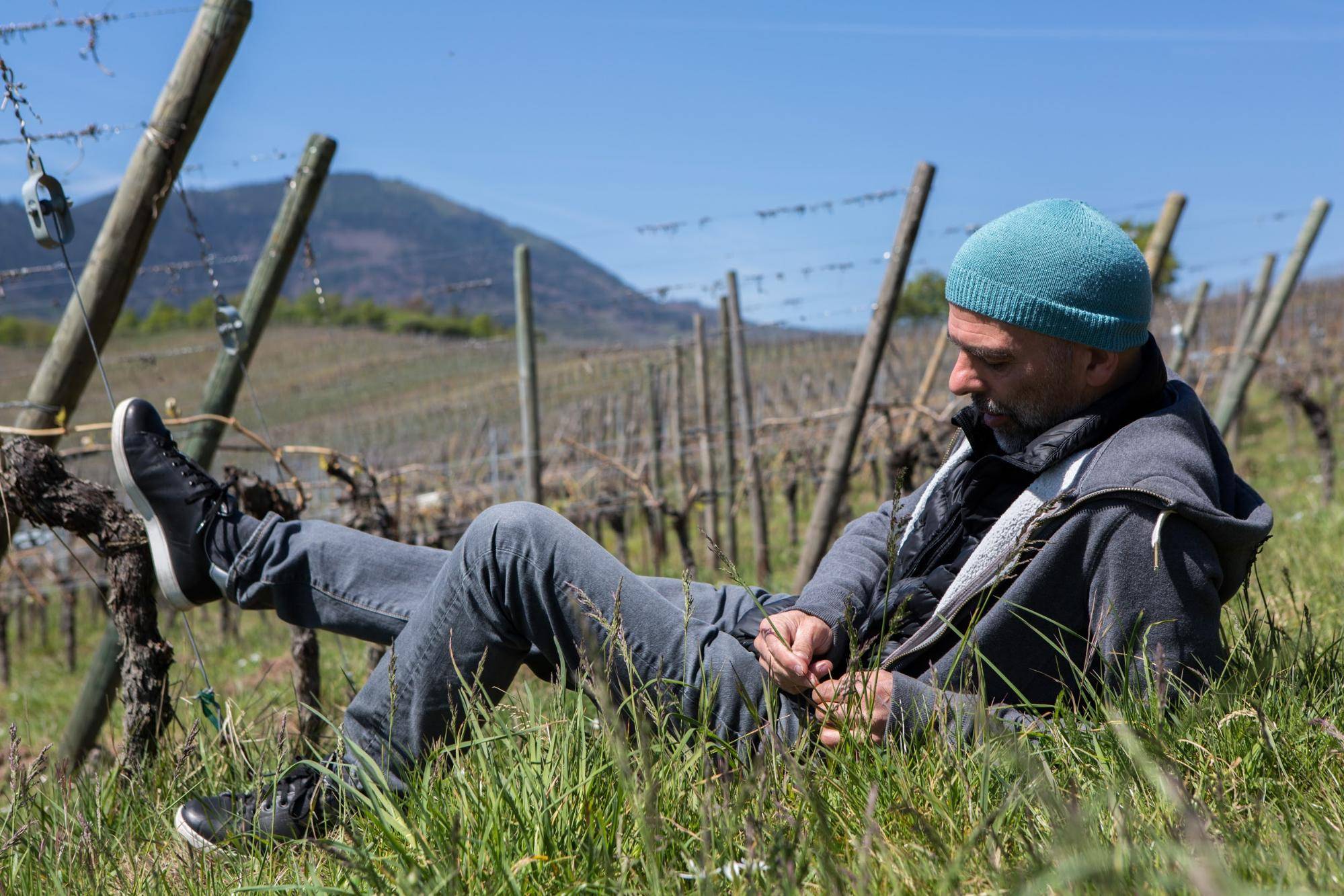 "When I taste a wine I distinguish very clearly the wines which have life or don't have life. This is personal, and it's me that senses this in an intimate way. In the wines with life there is a form of vibration and resonance that touches you more profoundly than other wines." André Ostertag in the film "L'Invisible." (Translated to English.)
Known as a pioneer, a poet, a philosopher, and an ardent environmentalist, he's the kind of guy that throws the rule book out the window and charts his own path. After training in Burgundy, André returned home to Alsace with a mission to improve the quality of wine at his family's domain, and to include biodynamic viticulture (a holistic and homeopathic style of farming that incorporates moon cycles) into the vineyard's management. Dissatisfied with the current classification system, he simply created his own. His new categories for wine: "Vin de Fruit," which expresses pure fruit character rather than a specific vineyard, "Vins de Pierre," which reflects the specific vineyard site (or the terroir), and the last, "Vin de Temps," which reflects the season and weather during the lifecycle of the grapes. Innovative and environmentally conscious, clearly this is a winemaker the SF Bay Area can stand behind!
I'll finish with a final quote from Ostertag found in Kermit Lynch's book, Inspiring Thirst:
"…true quality is that which succeeds in surprising and moving us. It is not locked inside a formula. Its essence is subtle (subjective) and never rational. It resides in the unique, the singular, but it is ultimately connected to something more universal. A great wine is one in which quality is contained. Such a wine will necessarily be uncommon and decidedly unique because it cannot be like any other, and because of this fact it will be atypical, or only typical of itself." ~ André Ostertag