Oh, Chardonnay - what a room divider.
There are the big, buttery, oaky styles often dismissed as (and I swear I didn't make this up) "cougar juice." These wines have a grab bag of tropical fruits dumped in, loads of vanilla, and unfortunately, not an ounce of refreshing acidity.
And then there's the Baxter chardonnay.
Now, I don't want to give you the impression that this is some hip "sommelier style" wine that's so linear your teeth will hurt - although it is the first wine poured on Single Thread's tasting menu. (Kudos to them.)
This is a wine that reflects the perfect harmony between the warm California sun and our cooling coastal fog. Picture it, you're standing on the wild coastline of northern California - the subtle scent of wildflowers on the hillside, the taste of sea spray in the air, the powerful ocean breeze whistling past you, and that perfect kiss of sun on your cheek making you want to linger all day - that's precisely where this wine takes me. Now, if that's the kind of description that makes you want to tell me to take a hike, then I'll just leave you with this - it's one of the most complex, intense, and balanced California chardonnays I've tasted in a long time. It's French Chablis meets California at its best, simple as that.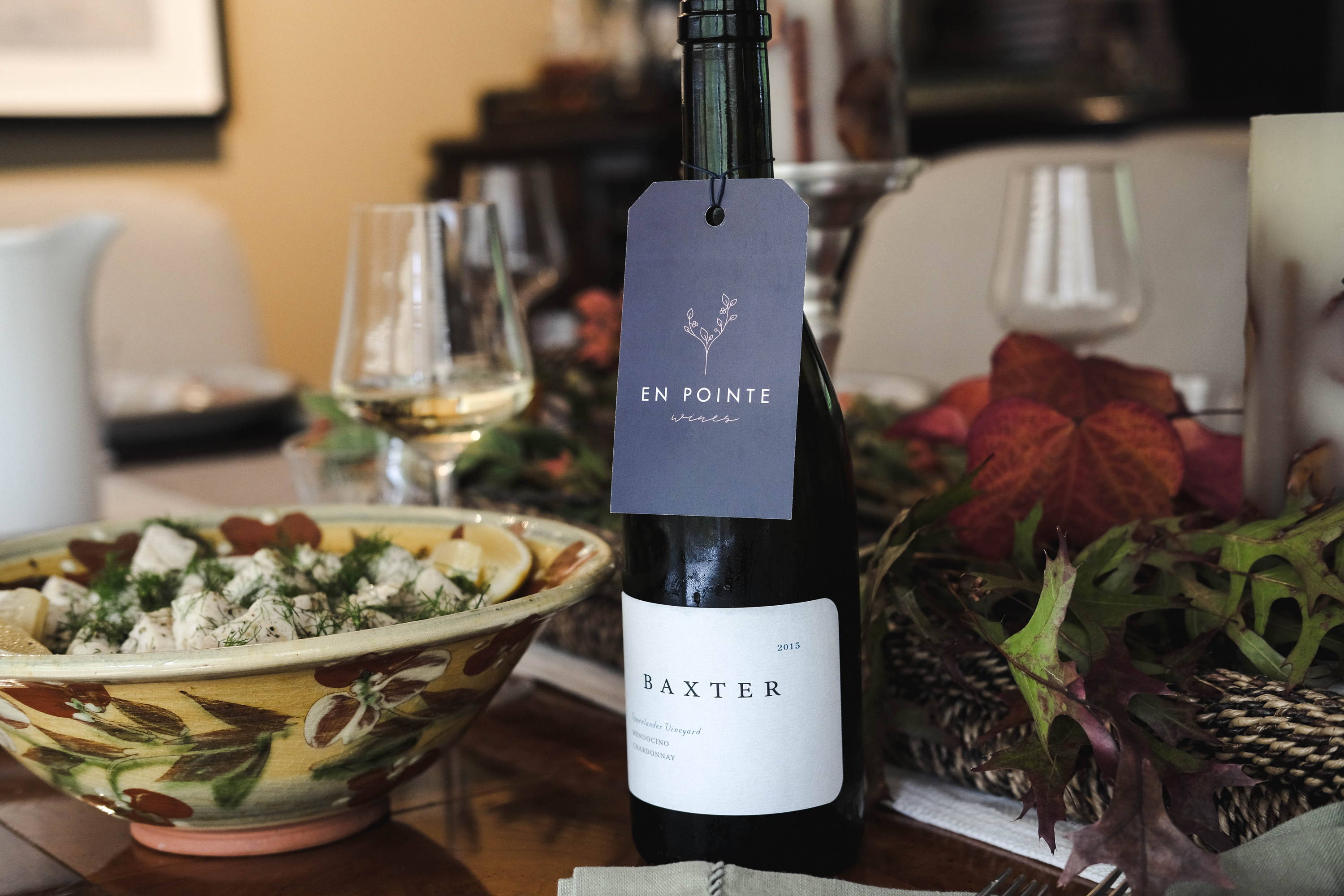 This wine shines when served alongside appetizers like oysters or goat cheese, or when paired with main courses like shellfish, fish, or even sushi. It would provide a delicious contrast to something creamy and rich (that could benefit from a refreshing lift) like a vegetable risotto or cream-based pasta. But perhaps my favorite pairing so far is this quick and easy swordfish with lemon and fennel recipe from the NYTimes.
Two themes that carry through our fall collection are family and natural wines.
As it should be, family first…
The family story has a few layers worth revealing - some more personal than others for me.
Back in 2001, our winemaker, Phil Baxter, spent a harvest working alongside his older brother, Sam Baxter, and my own older brother, Stephen McCullagh, at Terra Valentine - just a few years before my brother passed away. (My brother Stephen is one of the reasons I first became interested in wine, and creating this club helps me to feel closer to him and the world he was a part of every day.)
Phil's father, Phil L Baxter, also spent time at Terra Valentine as a consulting winemaker - so I feel a special affection to the entire family for their connection to my brother.
But back to Phil (junior)... With a degree from UC Davis and internships at Schramsberg and Terra Valentine under his belt, Phil headed off to France to intern in Burgundy. His French language - and winemaking abilities I presume - were so strong, he was placed alonside the cellar master at the prestigious Domain Raymond Launay in Pommard. After a grueling harvest working on a number of top quality Pommard and grand crus wines, Phil returned home to California (French cellar techniques in mind) to partner with his father, Phil L Baxter, in the creation of Baxter Wines.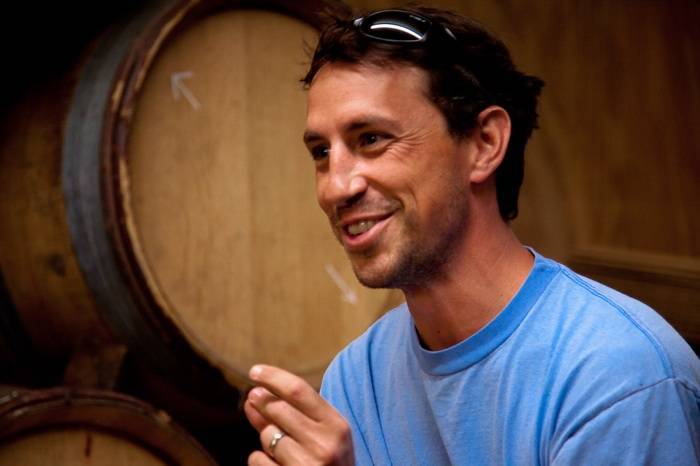 "This is one of my favorite vineyards to work with - it's special location close to the ocean results in beautiful crisp, clean minerality that sings in the finished wine. I age the Chardonnay as I do all my wines: with completely neutral French oak barrels so that there is barely any oak influence and using wild yeast fermentations as is the traditional way. This is a small block of Chardonnay that produces only 3 barrels each year."
~ Phil Baxter
There a few words that you hear over and over when people talk about Baxter wines, "lovely," "elegant," and "pretty," are especially common. Phil's wines are often described as French in style - Chablisienne or Burgundian, restrained and focused. The style of winemaking is natural, with organic farming and vineyard specific wines. The techniques selected are meant to showcase the incredible terroir, where the hand-harvested vines planted only nine miles from the Pacific Ocean.
The word that comes to mind for me though is balance. There must be something about the proximity to the ocean that makes it into Phil's wines - that balance between beauty and force that epitomizes the California coast. There's the way your eyes watch the light dancing on the water in the evening, and at the same time you hear the sound of the waves pummel the shore endlessly - I feel that duality with every sip.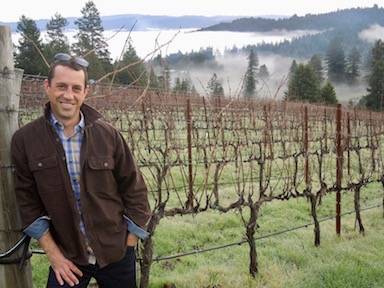 Tasting Phil's chardonnay for the first time was such a treat for me, not just because of the wine itself, but because of the talented and supportive family of winemakers that he's a part of - and of course, because of the tender connection to my own family. I hope to feature the wines of his brother, Sam Baxter, in an upcoming collection so you can feel even closer to this wonderful family as well… stay tuned. (And odds are we'll be scrambling to get our hands on little Anson Baxter's wines one day too!)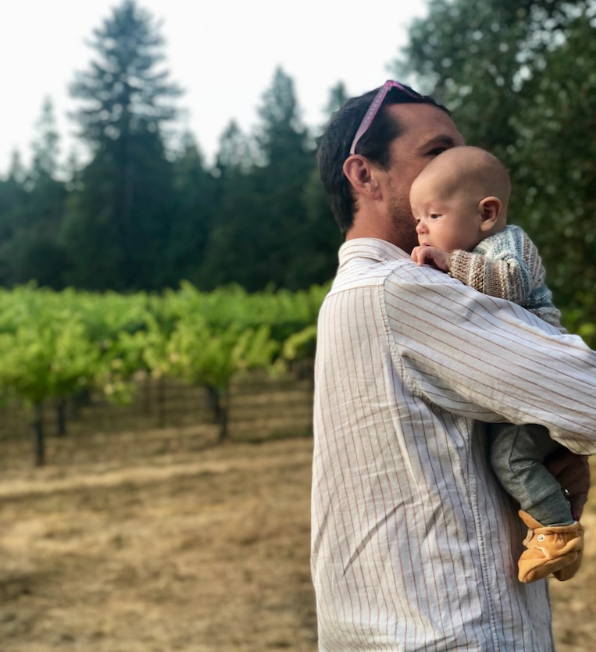 * Vineyard and winery photos courtesy of Baxter Winery.