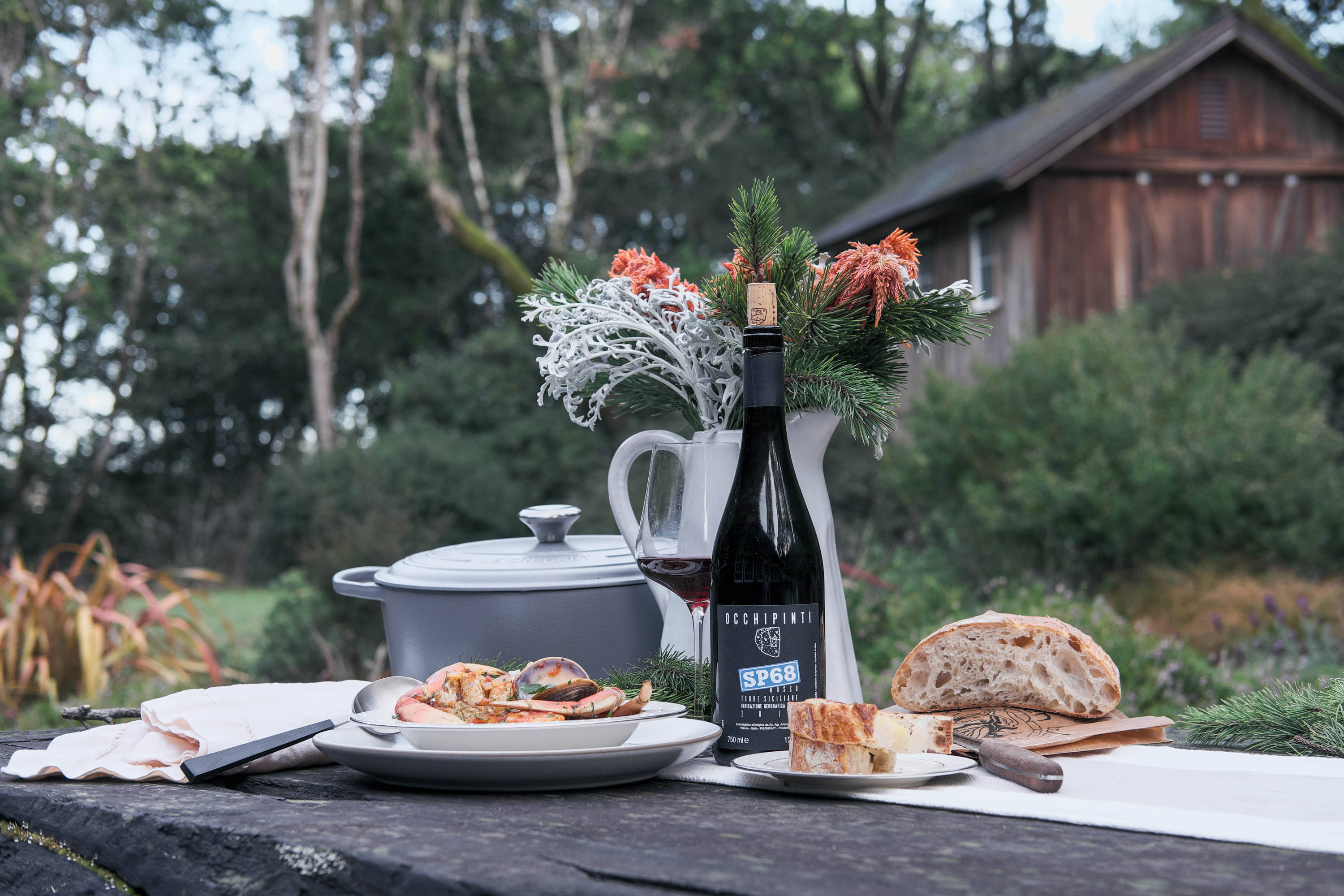 Wildly beautiful.
Nearly every Sunday morning Riley and I head out on a walk from our apartment and up into the forest of the Presidio - I guess you could say it's our form of church. And while there are so many reasons to look forward to this tradition of ours - the quiet time to check in with one another, the opportunity to be in nature, or simply the sheer glee on our puppy Walter's face when he realizes the plan for the morning - there is one small but absolutely stunning aspect to the walk that I look forward to every time…
Deep within the trees, where the ground is wet and the fog rarely lifts, are the most beautiful calla lilies thriving in the wild. Sure, you can buy lilies in the grocery store and prop them up in a vase, but it never fails to catch my breath to see how wildly beautiful they are in their natural state - wet soil beneath them, droplets of fog upon them, and surrounded by the wooded forest. It's the natural contrasts, the compliments between the subject and setting, and the overall balance of it all that speaks to me - in very much the same way this Sicilian red wine shows in the glass.
With an effusive bouquet of rose petals and lavender, wild berries and woody bramble, and the subtle scent of tobacco and smoke on the finish, it's not a "pretty" wine. Rather, with a perfect balance between rustic and elegant, it's breathtakingly, wildly, beautiful.
For pairings, the San Franciscan tradition of Cioppino with fresh sourdough bread at the holidays is a great option. But other suggestions from the winery include:
- Pasta con sarde e finocchi (with sardines and fennel)
- Coniglio (rabbit)
- Tonno (tuna)
- Pesce en zuppa (fish soup)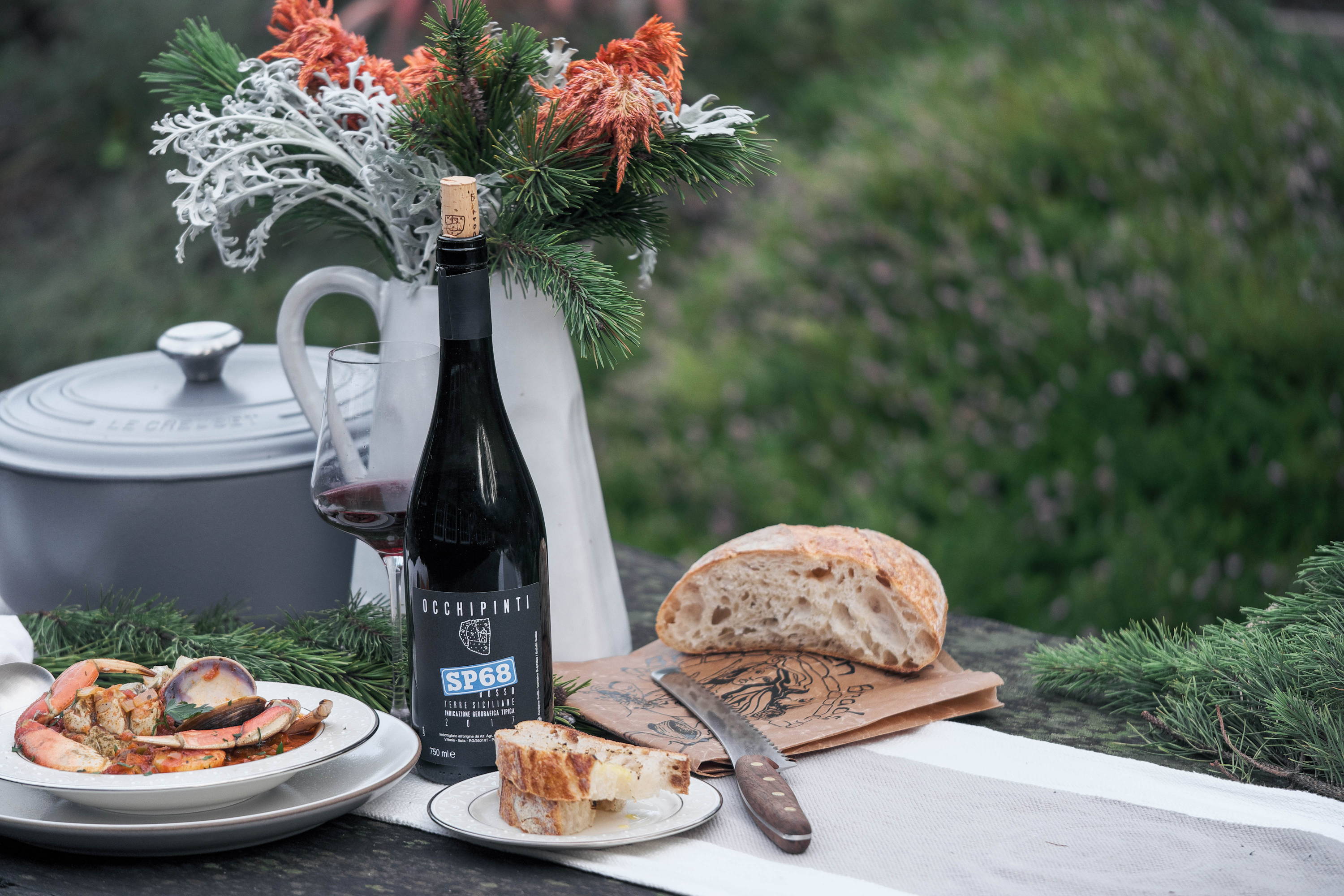 Arianna Occhipinti has become an iconic figure in the natural wine movement and a true star to a new generation of wine consumers. Her meteoric rise within the wine world and reverence from the top sommeliers and wine writers has meant that her wines are coveted by the best restaurants all around the world - especially given the small production size of the winery. (I was lucky to get my hands on a few cases for us!)
Arianna is the niece of Giusto Occhipinti, of COS wines, historically one of the top wineries in Sicily. In 1998, when Arianna was just 16 years old, Giusto invited her to help him out at a large Italian wine convention, Vinitaly. She knew absolutely nothing about wine at the time, but as the story goes, the experience was so positive and influential that she decided to study viticulture and enology in university. Perhaps my favorite component to the story though is that she disagreed with their lessons and techniques since everything she had learned from her uncle (from organic viticulture with natural yeasts, to hand-harvesting and avoiding additives). Her "real education" in the vineyards and the winery collided with this "scientific and modern" approach she was being taught in school.
Perhaps fueled by a youthful rebellion against her school's teachings, Arianna started making natural wines in the fashion her uncle had shown her with just 2.5 acres of abandoned vines in the commune of Vittoria. She has slowly expanded the estate by replanting the region's indigenous Frappato and Nero D'Avola grapes - the two varieties that make up our featured SP68 blend. Over time, she was able to rent 50-year-old Frappato and 45-year-old Nero D'Avola vines, which she bottles as single varietals, and in 2012, she acquired an additional 17 acres of 19-year-old vines, which currently produce more of the SP68.
In researching Arianna's story, I've become fascinated by her writing - her perspective of wine as "human" and her passion and respect for the history of "her land." It seems unfair to you to try and paraphrase her beautiful words, so I'll leave you with a few of my favorite passages from her website and encourage you to always reach for a bottle of her wines if you can find them.
A human Wine
Goethe said: "Substance is nothing, what counts is the gesture by which they are made." And the first thought that I've learned from wine making it was to accept. Accept the diversity of soils, the slope of the ground, the altitude, and the originality of a vineyard. To accept means to respect. To respect the earth and its balance. Respect the vineyard with skillful gestures of a sensitive agriculture To respect the fermentation through the use of local yeasts. Respect the wine as if it was a person. A person who takes with him/her, a world, a history, an atmosphere. And it tastes like the land where it was born from. Mine is not just an organic wine. It is a natural wine as I think about myself, that's how I am. It comes from my sensibility towards true things and from my Gestures, my loving attentions. A wine that, in its harmonies and roughness, talks about the land where it comes from and also about me. That's why I think that the natural wine, besides being a good wine is also a human wine."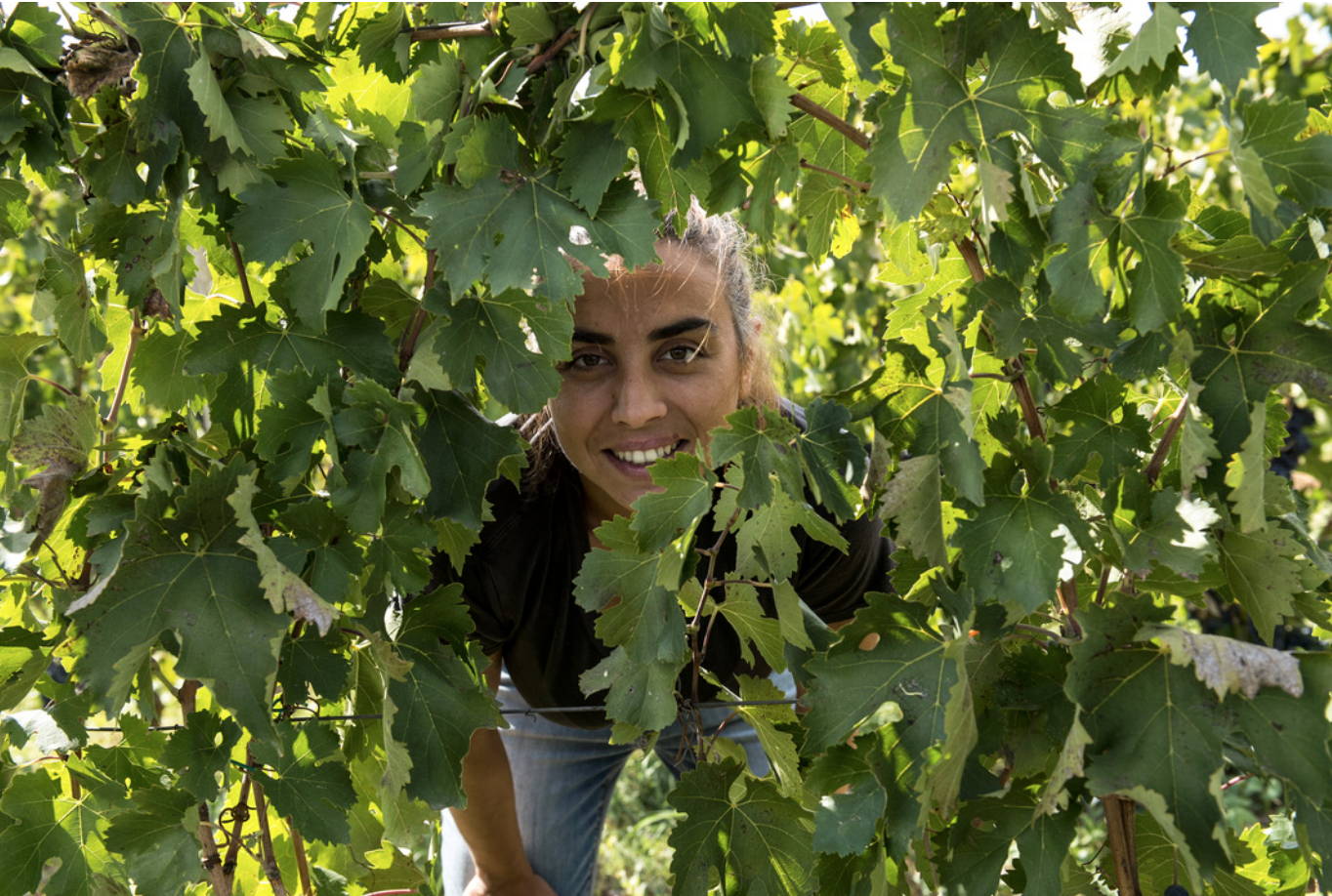 Everything begun fourteen years ago in the "Fossa di Lupo" area. A place where the land in the evening becomes redish and is brushed by the Ibleian winds and leans on one side of a road: the County Road 68. A county road like many others, but with a special past. It was once a stone narrow path; three thousand years ago it connected Gela to Kamarina, it travelled- as it still does - through the Cerasuolo di Vittoria roads hills and from Caltagirone continued to Catania and Lentini. There, squeezed between heaven and earth, that road also marked my destiny."
Nowhere else I can feel to have been walking on a coherent road. Never as in Bombolieri I can feel that I'm carrying with me past and future at the same time. It was the oldest wine route ever documented. That road was used by generations of farmers to bring their own wine to the coast....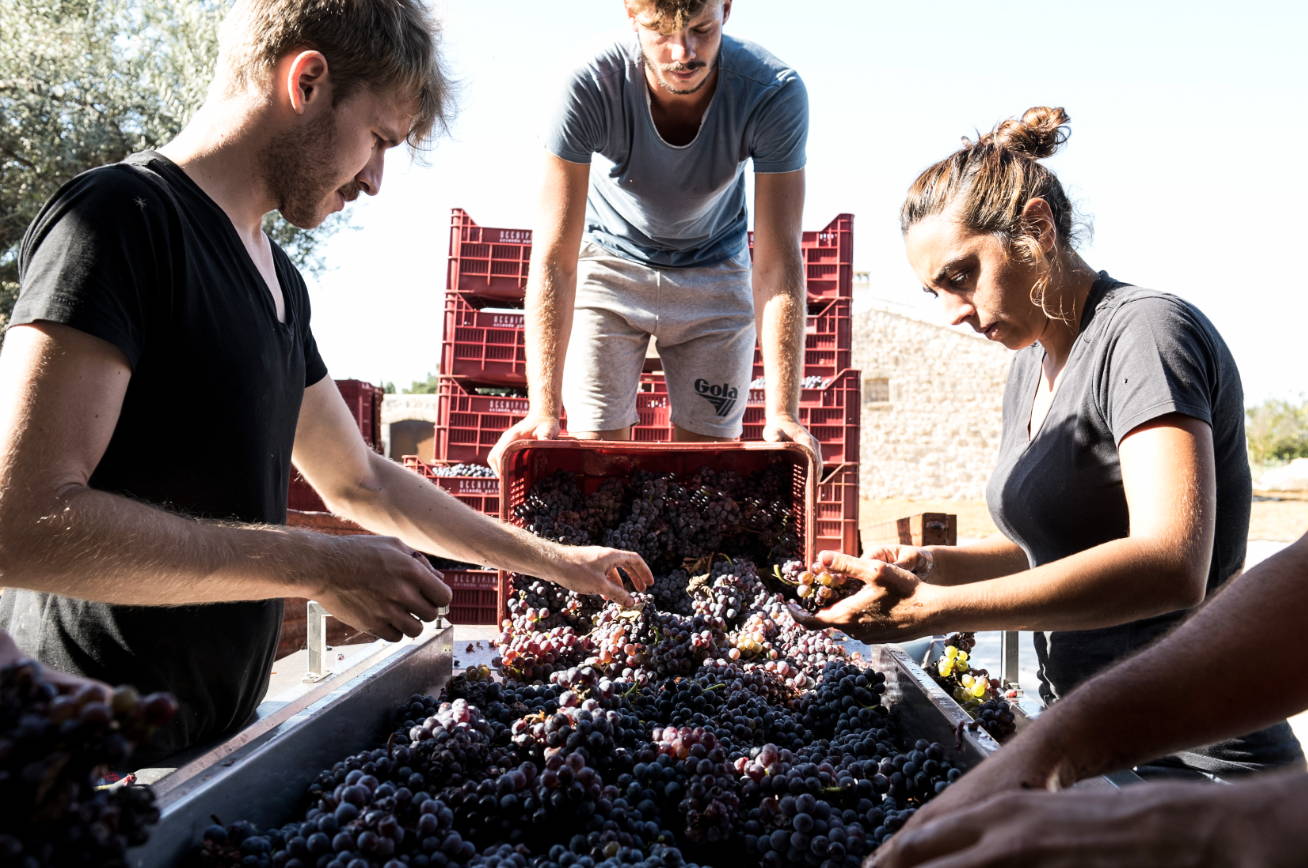 Vittoria is the town where my family has lived for xx years. And, as a sign of destiny, came specifically from wine. A wine that historians called black and that was produced until the nineteenth century, when the phylloxera infection wiped out the wine community. A wine that disappeared for a hundred years and then came back in the crops only in the 50s and that it was called Cerasuolo, a mixture of "calaurisi" and "rrappato" (Nero d'Avola and Frappato). My life is linked to this story. Not because I really knew it, but because is written in the land, in the countryside full of beams and millstones, and in this town of a few monuments (such as the Basilica of St. John the Baptist and the Church of Santa Maria delle Grazie). The town was founded to bring order to the country and to itself, which was created from country. Over the centuries it was inhabited by people coming from all over Sicily, Calabria, even from it is where, immediately the figure of the winemaker arose. As if the vine was something that people could breath in the air since ancient times. Oxygen, history, and anyhow in anyway, a new life.
* Winery and Vineyard Photos courtesy of Occhipinti Winery